I know this is a long time coming, but I finally got around to letting all of you know a little about me. I was raised in Parma, along with my band mates. I played some kind of musical instrument for about 12 years. When I heard my brother was going to get a band together, I saw a golden opportunity to bust a bass groove. I bought my bass to jam with him, however our schedules don't really coincide, so that doesn't happen too often. (Plus he is waaaaay better than I am!) Anyway, I need to practice a whole lot before I am a major contributor to this project.

I graduated from Cleveland State, with a degree in mechanical engineering. Yeah, I know that sounds exciting, but I like it. Plus, the place I work is cool. Everybody is laid back, and cool to work with.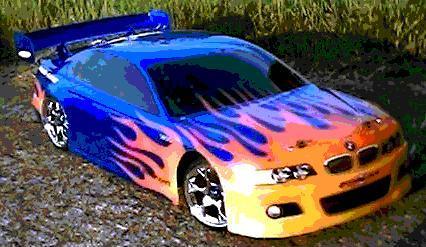 I enjoy golf, tennis, and what not, but there is one thing that I really have gotten into. It's RC racing. I bought a touring car, about two years ago, after I saw them racing at the auto show, and had a great time. Since then, I got two more, because racing one class leaves a lot of time that could be spent racing another! Here is an example of my handiwork. More to come. If you're really interested, check out the US Indoor Championships at the Rockside Rd. Holiday Inn over Thanksgiving weekend. It starts at 7 am and goes until 11pm, Thursday to Sunday, so anytime you stop by, there will be racing mayhem.